Your child develops an irrational and debilitating fear of something? Recently Emma has developed a fear of BUGS of any kind... even the tiniest bugs like gnats and ants. One day about 1 1/2 weeks ago she just freaked out while in the car and screamed like a victim in a horror movie. John almost wrecked the car it scared him so badly.
Four days ago she refused to do one of her favorite activities, side walk chalk, and shook violently at the sight of an ant. Later, she refused to move from a spot in the middle of the back yard because I made the mistake of telling her that she didn't need to be afraid, bugs were every where in the back yard (above ground and below) and the didn't and wouldn't hurt her. Later (after about 2 hours of her standing in one spot screaming) we convinced her to get in the sand box, into the nice NEW , clean sand. I was a few feet away when she shrieked and sobbed because of one ant in the sand box.
I don't know what happened, the only thing I can think of is that she had a bad dream or something but I can't seem to get a clear answer about it. I know I need/ we need to comfort her but I don't want to over do it (as in John and I have told her we will give her hugs but we refuse to carry her around in the back yard or hold her off the ground)... and I know that if I ignore her behavior it could foster feelings of abandonment and make things worse.
I have been wracking my brain to come up with things to make her feel like she is in control, and to show her that bugs are good and that it's OK to not like them but she doesn't have to be afraid of them.
Soooo, this is what I have come up with, I hope it works! Emma got some toy lizards for her birthday from Anna from Target, and they had some matching buggies on sale. My idea is to have her get used to bugs by playing with these, they basically are from
David Kirk's Miss Spider/Sunny Patch.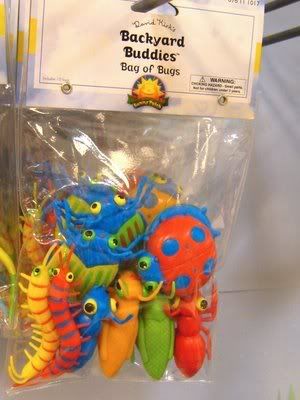 Also, we bought her a magic pair of sunglasses in the right side of the picture below that have butterflies on them, and the lenses flip out to the sides. They are magic because bugs will see that she is friendly since the glasses have butterflies, and the bugs will decide to be very nice to Em and not hurt her. If they do fly on her, they are just there to give her a buggy kiss to say thank you for showing that she is ok with bugs.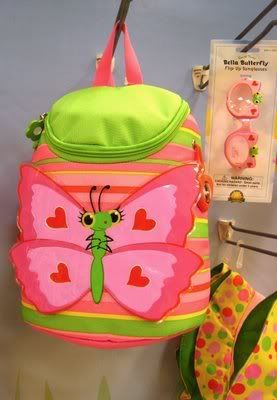 If THAT doesn't work, we have also bought her a spray bottle that I will fill with "bug spray" (
thanks for the idea Ash!
) that will have water with a dash of febreeze for scent. She can spray the bugs if she gets scared while we are out, not to "kill" them but to remind them to be nice. ;)
I hope something works because I hate to see my baby shaking in terror because of an ant :(
Did you go through this ( irrational fears) with your child? How did you get them through this phase? Any help would be appreciated!

*photos are borrowed from Bug Safari*