I would take this as a really bad sign, and we would just go ahead and buy a gun and be done with it.
I'm talking about the fact that Anna seems to already have a fan club. I mean really, though I have never thought myself to be beautiful, as a teen I wasn't too hard on the eye- but now that I'm 38 I often wonder just how these 2 beautiful girls of mine came to be. John says the same thing.
"How did
we (meaning 2 ugly old farts like us)
ever make such beautiful girls."
Of course for just a moment, I reacted like you would expect.
"Gee, thanks, honey."
I'm sure I rolled my eyes too, but I laughed because I knew he was right. We ain't spring chickens, ya know. We got started late in life. Sure we , married young and thank God- I tell him- at least we got to enjoy each other while we were still semi-hot. ;)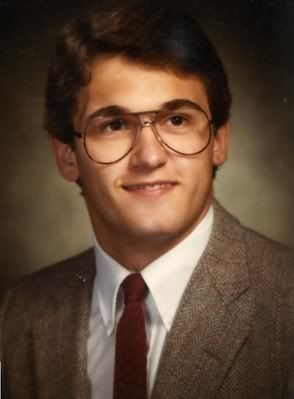 Roww-rowwwww, Hunka hunka!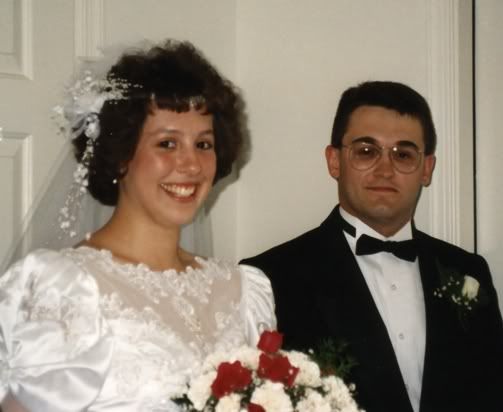 Awww, poor guy! Married for a half hour and already looking exhausted.
If he only knew! Oh well, hindsight, right?
BTW, we'll be married 19 years this coming June 3rd.
SCARY! Man, am I rockin' the 80's hair or
what
?
Anywho...... digression, digression, a tangent, digression... Oh, right, Anna. I asked Anna a few days ago if she still had an admirer at school. Anna told us that the little testosterone filled trouble maker at school still swoons at the sight of her, and usually says a very quick "I love you" as he passes by her desk.
I snorted.
Then she said very casually that most of the boys in her class are "crushin' on her". One boy likes to ask her, "Hey, hot baby... how's it goin'?"
I guffawed.
Good lord folks, who is teaching these kids one liners? Joey Tribbiani? *How
you
doin'
?*
Another boy likes to tell her "You look sexy".
I had a stroke.
Ummmmmmmm, 'scuse me? *sigh* I think I may have mentioned this once ot twice before.
We are soooooooooooooooooooooooooooooooo in trouble.