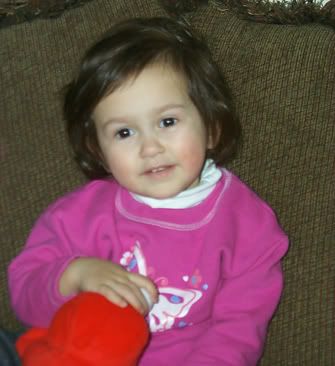 Emma had a refreshing nap today, she was all smiles when I went upstairs to get her from her room.
I said,
"Hi honey, did you have a nice nap?"
"Um-hum."
"I love you!"
"I know."
Emma is doing very well in the chatter department. Every day her vocabulary doubles it seems, most of it with the help of her big sister. Unfortunately for us Emma has picked up other phrases such as:
No I did it
- which actually means "No, I didn't."
Yeah, yeah, yeah
- oops, that one was from me
and the dreaded....
WHY?


A little while later, I noticed that Emma had lined her half eaten cinnamon graham

crackers

on our new
couch.



"You're messy, kid,"

I mention in passing on my way to the kitchen, stopping for a moment to put the crackers in their temporary snack cup home.


"No, I not."


I am so happy that Anna is teaching her the finer points of sassy butt-ism. It's all Anna's fault , you know... It's not like Anna spent all day, every day for the first 4 years of her life with
moi
or anything. Don't even suggest it. :OP