Scroll down for part three of You had me at "you kind of annoy me" :O)

***Edit to add: I'm sorry to

bloggers

I missed in my story, you have been added. I didn't see ya sneak in there at the end... scroll down to see the rest of our Front Door Story.***

There is a grunt load of snow! I have to say, my front yard doesn't usually look that pretty. So, that's the exciting view from this old brick house. If you would like to see the view from other
bloggers
, head on over to
Vicki's.
Her Grand Idea was to have people post pictures of what they see out of their front door everyday. Pretty cool idea, I am really enjoying seeing what other
bloggers
see in their neck of the woods.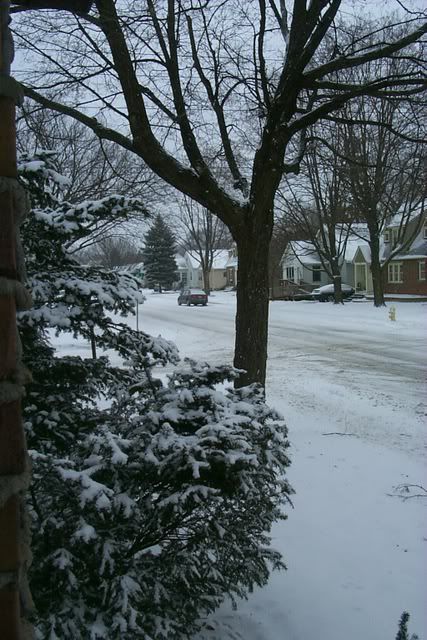 I was noticing at At Vicki's site that she had all of the participants listed. I started to read the names of the blogs and decided to make up a silly story, following the list in exact order that she had it. Enjoy!
I'm sure that all the other participants are
Dreaming of What

If's
of
Strawberries and Champagne
, just as I am! I'm heading over right now, and I'm sure there will be some
Small Town Rambling
(s) on
My Way
. I'll be wondering who
Loves Rain
as my senses are
Waking Up
in the chilly air. Though I know nothing about
Anecdotes, Antidotes, and Anodes
, I do know a little about being an
Ice Cream Mama
.
I didn't say it was your fault
, but because I'm rambling on and on, I have gotten lost. I'm sending an
S.O.S.
, and I'm hoping
The Dust Will Wait
. It just wouldn't be
A Family Story
without
Dirty Uncle Mark
and some
Mama Drama
, and though this might not make any sense- I'm
Almost Somewhat Positive
that
A Dingo's Got My Barbie.
Hah
, now I know where I'm going, I just passed
Another Chance Ranch
. Now that I am almost there, I am wondering if being a
Mom To 3 Cubs
can drive a woman to her
Pensieve

.
I don't want to know. :O) If you are like me, that seems a little too
Voodooesque
.
OK, yes... almost there. I'm turning right on
Tiggerlane

.
I really want to go
The Electronic Firefly,
where I hear that they have
a

very nice man

posting signs above toilets
. ;O)
Crazy Is As Crazy Does
,
Don't Try This At Home.

*** Added late, sorry guys!***
As I neared Vicki's place, I wondered if I shouldn't have brought something... but then I thought,"Enter a
Room con

queso
?No.
This is Cyprus
, that's not how they roll." I then realized I had been talking an awful lot to my self on this walk... but there was time for one more question!
"
Are We There Yet?
"
I cracked myself up. I was cold, and remembered that I just happened to have some
Peppermint Tea
in my purse. How lucky! I wouldn't be walking empty handed after all, I thought to myself, as I hummed Living
La

vida

Claudia.

As I rounded the corner to Vicki's place,
Mrs. CPA greeted me at the door, and forewarned me that the topic of conversation was about going
From

Fattie

to

Hottie

in 6 months. Poor
Kurt
, he didn't know what to make of it all and looked a little embarrassed. I rescued him by asking him to help me make tea, and giggles followed us as we moved to the kitchen. Everyone
enjoyed
their visit at Vicki's, as we all sipped tea and exchanged pictures of the view from our own front doors.
~~~*~~~*~~~*~~~*~~~*~~~

I forgot to mention yesterday in my Miscellaneous Soup that on Saturday night I put Anna to bed. She rolled away from me, paused, then said over her shoulder, " Hey mom, I think that the next time you go shopping you should pick up a bag of mints."
Not
some
mints, not
a
mint. A
bag
of mints. It sucks to be me sometimes. ;O)