For three months straight, my kids have been on a coughing, sneezing, barfing, pooping too much and pooping too little (sometimes in the span of a day), producing more mucus than humanly possible, groaning, moaning, ear/stomach/nose rubbing, fighting, screaming, whining, crying, clinging, stomping, arm crossing, Rain Forest/tissue destroying rampage.

A month ago, they both got cold within days of each other. Shortly there after Anna got Walking Pneumonia (her 2
nd
bout of pneumonia), and Emma a bad upper respiratory infection. Follow that with another cold before and during Christmas... all topped off with a shiny new ear infection for both.

That's right folks, Anna and Emma both were winners of a free trip to the emergency room this weekend. My husband was the winner of 2 trips to the emergency room, almost consecutively. Emma complained of some ear pain
Saturday
morning, and since her ear was actually red on the outside, we thought maybe she had just slept on it wrong. As I said, the kids have been in a state for 3 months, only taking off a few days in between visiting a new bacteria/virus, so I just figured Emma was just being a little crankier than usual. A few hours later, after cleaning
Anna's
right
ear as per her request- for itchiness- she began to complain of a 6-10 pain ( I had taught her a pain scale of 1-10, 10 being the worst pain she had ever had to help me with her pain medicine needs).

Though I knew I hadn't put the swab in very far, there is always doubt in my mind, and I cajoled the surly Male Income Support Unit into taking Anna in. Luckily, since all pharmacies were closed, the ER gave us a bottle of antibiotics, instead of having to wait until Monday. Which probably wont be covered by insurance, and we will have to take out a small home owner's loan to pay. But that's neither here nor there as they say, Anna needed the medicine.The ER doc said that if we had waited another day, she would have been in excruciating pain.They left at 4:30pm and got home at 6:30.

Being that Anna squawked very loudly and consistently, as you can imagine since she was in horrible pain... We forgot all about poor Em's complaints from the morning. You would think that since they have gotten matching illnesses we wold have remembered, but no- we didn't- until about 9:45 pm, at which time she cried "ow, ow, ow" while holding
her
right ear. I called my poor husband upstairs to tell him the new (old)
development
and watched as his shoulders slumped in irritation and defeat. So, off they went at 10pm and they got home at 12:30. Emma also has an ear infection.

Meanwhile, imagine if you will... I had a full blow cold sneak up on me Friday night, that my children were so kind to share with me. The second I came down stairs from putting Anna to bed, my head and face exploded in a fusion of pain and mucus. Hooray for me. Unfortunately, nobody cared... they had their own problems. And, I'm the mommy.

So, I was going to save some of these for Wordless Wednesday, but I couldn't choose. Then I figured they
could
make a good post. This is a little taste of my weekend. Enjoy.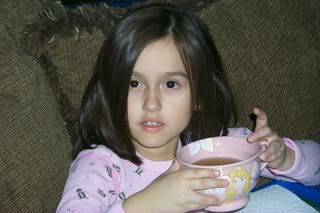 "Don't even think about it, mom"
"Stopppppp!" (roughly translated as "Bad mommy, BAD MOMMY!")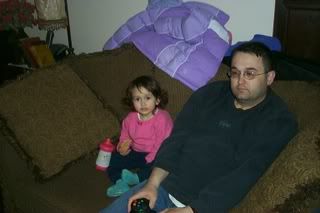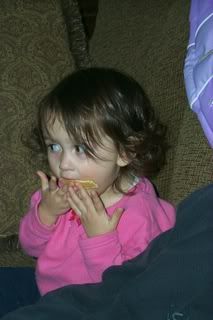 "Mother, dahling, I shall continue to refuse all sustenance. Except for any sugar coating, in which case I shall lick it off, post haste!"

AND, from the MISU,

"Darn you woman, can't you see I am trying to block the sounds of groaning and whining with machine guns? BE GONE, you and your flash-making electronics!"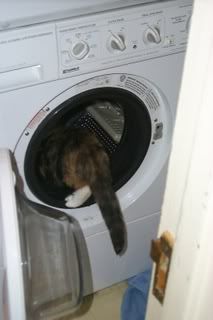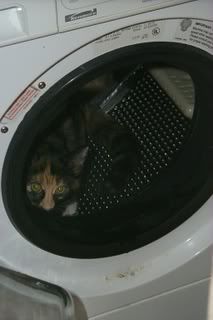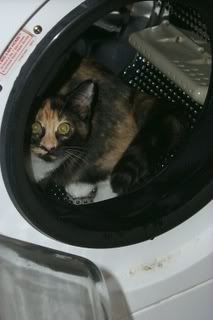 <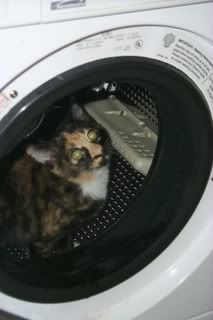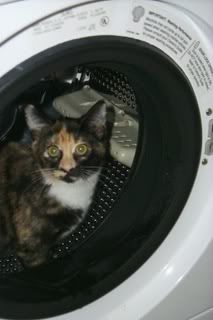 "At last... My evil plans to deposit fur on the clothes BEFORE they even get to the dryer has been realized!...Oh snarf, I have been made... Hi mom, aren't I cute? ...Meow?...Maybe if I avoid eye contact... poop."
*The TMX Emma got from her Nana for Christmas is disappointing. After only 2 weeks (and even completely brand new batteries), his chin trigger button doesn't work, his voice cuts out mid laugh, and he gets stuck in uncomfortable and unseemly positions. I know the feeling.*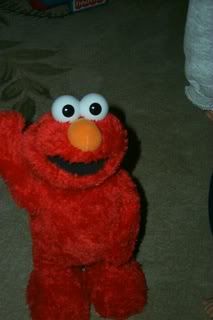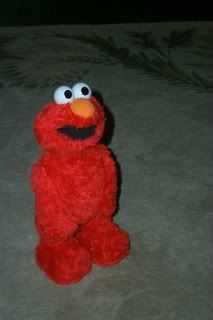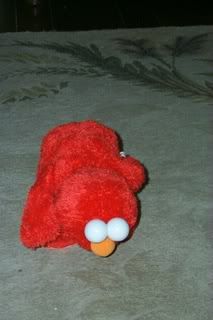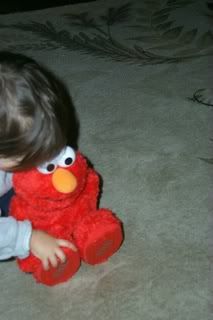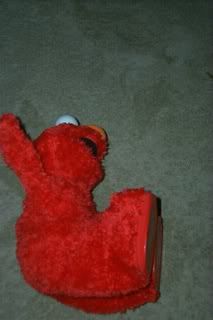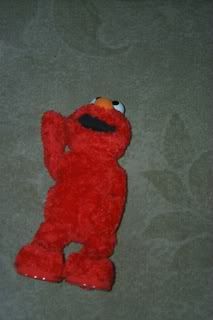 "Hi, my name is Kick Ill Me Elmo! Please push my buttons and see what happens!... Hahhah!...Kick Ill Me Elmo is stuck and has strained his back, give Elmo a break!... OK, kid, stop pushing my buttons now! No really!...Oh, Oh, Elmo has fallen and can't get up!... I think I'll just lay here for awhile."