And do not have internet. Or cable. Or my phone for that matter. They all went mysteriously kaput yesterday mid blog...
Because my husband, the MISU forgot to pay Mediacom.
For 83 days.
I love him.
But he's got some 'splaining to do... Hell hath no fury, like 2 girls without cable.
And
a momma without the net. I am typing this from his desk at work.
Any suggestions for punishments? Because I won't have any of those lovely things until next TUESDAY.
Anyone?
Edit to add: I'm still at his work desk... as a punishment I have tiled this image on his ginourmous 24 inch monitor...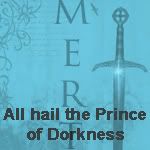 It's the prize for the Friday the Dorkteenth contest... I told him he has to keep it up on his screen until I get internet back.
Appropriate I think. :D