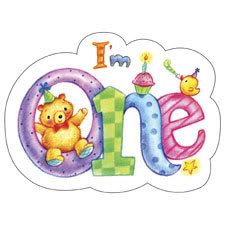 Happy Birthday Sweet
Bloggie
!
Bloggie
, in the last year you have always been there for me when I needed to vent, and even though you remain quiet... I know you are listening. Because of you, I have met a lot of nice people. Well... some weird ones too, but that's what I like about you. You are well read, well traveled... Who would have thought that you would travel to far off places like Hawaii and Oz?
Even though you can be difficult at times with photographs and have thrown away posts I have worked really hard on, I still really like you. You never seem to mind too much when I suggest a make over, and you wait patiently as I ponder your inner workings. AND you never complain about the endless amount of
bling
. :D
Sometimes you can be
bold
and

off color,
and sometimes a little too
BIG
for your own britches. But that's OK, we all make mistakes. I can't begin to count how many times I have made you republish because I made a teeny weeny spelling mistake- sometimes 20 times in one post...Yet you never complain. And even though I have contemplated pimping you, you have never stopped being there for me.
Bloggie
, I hope that we will always be this close. You really do complete me, as cheesy as that may sound. Don't ever change.
Except when I make you...
We'll talk about that later.