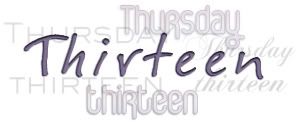 You might be wondering "why
MISU
?" ...In my first blog post a year ago
How to make a 3o minute meal in 2 hours,
I called my husband the Male Income Support Unit. I love my husband very much, and though he is the butt of my blogging jokes sometimes ( which are very few, I am usually the butt of my own jokes)... I'll say it again! I don't know where I would be with out him today. :O)
Since Valentine's day is coming up, and tomorrow is his 40
th
birthday, I thought I would write about the hubs. I wrote this this morning and it wasn't hard for me to come with 13 things. Which is another thing I love about him, in itself.
1. I love that from the moment he saw me, he was "annoying" the crud out of me...
2. Which later I found out was his way of showing interest in me...
3. Despite the fact that he had been watching my train wreck of sowing wild oats.
4. After 2 weeks of dating, I told him about my childhood. Everything. He didn't bat an eyelash, and still wanted to be with me.
5. Even after I told him that night that if we got married (which the mere mention- after only 2 weeks- should have had him running screaming in the opposite direction), and I found out that he ever hurt our kids... I would kill him. ( again- running
screaming
)
6. After a year long engagement of complete and utter drama usually involving my crazy family, and almost calling off the wedding, we still loved each other enough to get married.
7. After a year of being married and living with friends from the Navy, we finally got a place of our own. His friends were driving me nuts (stole my stuff and hid it in their room, wiped their dirty hands on my clean laundry, and left hundreds of beer cans lying around for days... usually with spit from chewing tobacco.

BLECH

!), and I told him to choose them or me, that living with his friends was going to be a deal breaker. A month later after we finally got our own place and were trying to work out our marriage,we went to the Persian Gulf. We almost got a divorce, and despite me wanting to call it quits halfway through the war... he worked really hard to save our marriage. After being separated for a few months during the war, he saw everything with clarity since he was able to step back from it all. Seeing that he really did love me made me want to save our marriage too. I loved that he didn't give up on us, when I had.
8. He has always been able to be objective about my situation with my mother. He always told me that it wouldn't matter if he was her son-in-law or not, he wouldn't put up with her shenanigans. He gave me the

strength

and courage I needed to stand up to her, and he helped me see that I was worth more than the little value my mother had placed on me. Because of him, I was able to finally tell her enough.
9. He is always concerned with me feelings and welfare, and is always telling me that he wants me to be happy in what ever aspect of life that i am facing challenges in. this includes figuring out what the heck I want to be when I grow up. :O)
10. He gets me. Every silly, goofy, sad, depressed, obsessive-compulsive, sarcastic part of me.
11. We have the same sense of humor., which is probably
why
he gets me. :D
12. We will do anything to make each other laugh, including making ourselves look ridiculous. You don't find many guys out there like that. We laugh a lot. I think this is why we don't fight very often. Well, that and because I don't talk to my mother anymore... that helps a lot too. less to fight about.
13. I love that I do still love
him.
With every fiber, every heart beat. He does that to me. Plus he still has a nice butt. ;O) I got the bonus plan, baby!