***Updated!***Ever the procrastinating borderline non-conformist (What does that
mean
? It sounded good anyway.)... I am making myself a Valentinr :O)
Here is mine, and I will have one in my side bar.. that I will have to remove in a few days, LOL! But you know me, I love adding code any where on my blog.
Send me a Valentine, please? *Big Princess Puppy Dog Eyes*
Get your own valentinr
~*~*~*~*~*~*~*~*~*~*~*~


Speaking of Valentine's Day... I signed up For Local Girl's Valentine's Day Swap. By doing this I have met 2 more wonderful people, Marina and Mari!
I just received my goodies from Marina today. :D
First , let me say that Marina gets an A+ for presentation... She took extra time to make this for me.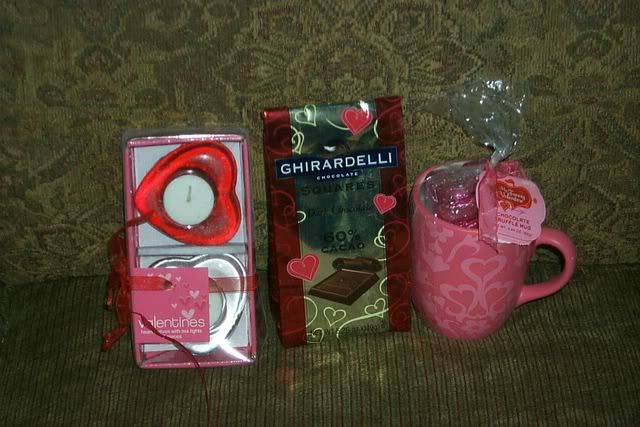 I got 2 Valentine's candles (I looove candles!), a really cute coffee mug with chocolates in it (I can't wait to use the mug for my daily cuppa joe)... And last but not least, she gave me not only my favorite kind of chocolate- dark, but my absolute favorite kind of dark chocolate, Ghirardelli's!
For years, I worked at San Leandro Hospital in California right smack dab next to the Ghirardelli's factory. Every day I was tormented with this sumptuous smell, which most of my coworkers hated. Not me, I was in heaven! Whenever we had the chance to go to San Francisco, I always loaded up because you could always find more of a variety... where else but Ghirardelli Square.
Thanks Marina, you did good! Heck, you did more than good, thank you so much... you couldn't have picked better goodies. Tonight I am going to kick back and enjoy some of that beautiful chocolate, and some fond memories of living so close to SF. :D