Today's Manic Monday was brought to you by the word
SEVEN
:D
When I think of the number or word seven, I always think of a big burly man I used to have in my life. When I think of him, all of his funny little quirks come to mind.
He loved the smell of my just washed hair and would often rub his face in it. He loved to put his head in my lap and gaze lovingly into my eyes until drifting off to sleep... always with a smile on his face. If I was having milk or cereal, he insisted on having the same and would sometimes eat out of my bowl.
I miss him so much, that even the thought of one of his less endearing habits brings a smile to my face: he liked to pee on my furniture and twice when I was pregnant with each of my children ... he tried to pee on me.
Now that you are completely mystified- or horrified- I'm talking about my furangel Seven.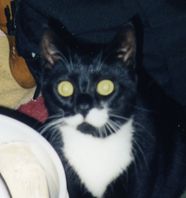 I miss his "Got Milk?" mustache, and the feel of him hefting himself onto my lap or on my side while I was sleeping. I miss how he would climb onto the back of the couch purring so he could mark his territory with his face- all over my head. I miss the way his little meow didn't match the size of him, he was a big boy. I'd put up with a lot just to hold him for one more moment... including a little (or a lottle) pee on my couch.
I miss you Seven... I hope to see you again, even if it's only in my dreams.