OK, let me just preface all of this by saying that my tastes in movies covers a wide range. I love comedy, drama, thrillers and foreign/subtitled films. I like guy and chick flicks- and if you can get a chick flick where they blow stuff up... well, I'm just tickled pink. Yeah, I can be a meat head like that sometimes. ;)
Knocked Up... lets just say that I have a very twisted sense of humor. Bordering on gross and obscene. I loved this movie- NEED I SAY MORE. Yeah, this is where the meat head theory comes in to play. This movie reminded me of the good old days when I'd go watch my hubby play softball on base in Oakland, back when we were in the Navy. Sometimes I was the one of the few chicks there so you can imagine. Yup, just me and the guys hanging out. Good times. If you don't mind the typical single guy humor and can hang with the fella's like the best of them, you'll like this movie. If crude humor turns you off, don't see it.
Live Free Or Die Hard? EXACTLY... tha's what I'm talkin' about! I love Bruce Willis and have for a very long time (think teen crush on a very suave David Addison on Moonlighting... YUM!), and for me this Die Hard movie didn't disappoint. Believe it or not, I didn't find the plot of this movie as far fetched as previous Die Hard's- but I ain't saying the action wasn't there. This film 'tis very good.
Transformers? The nostalgia was bearable ;)You might think that the concept is cheesy being that it is based on an 80's cartoon, but this movie kicked butt! Animation- mind blowing and so realistic. Action- Yes, yes and yes! Story line- very humorous and the creators did a very good job sticking to the original cartoon story line IMHO.
Have you guys taken your ankle biters to see Ratatouille yet? It's very cute! A lot of kids movies these days are lack luster when comes down to content, but I have to admit this one is pretty good.
My husband found this wallpaper at the official site and asked me to take out the huge logo and words at the bottom... and I did :P Here is the original: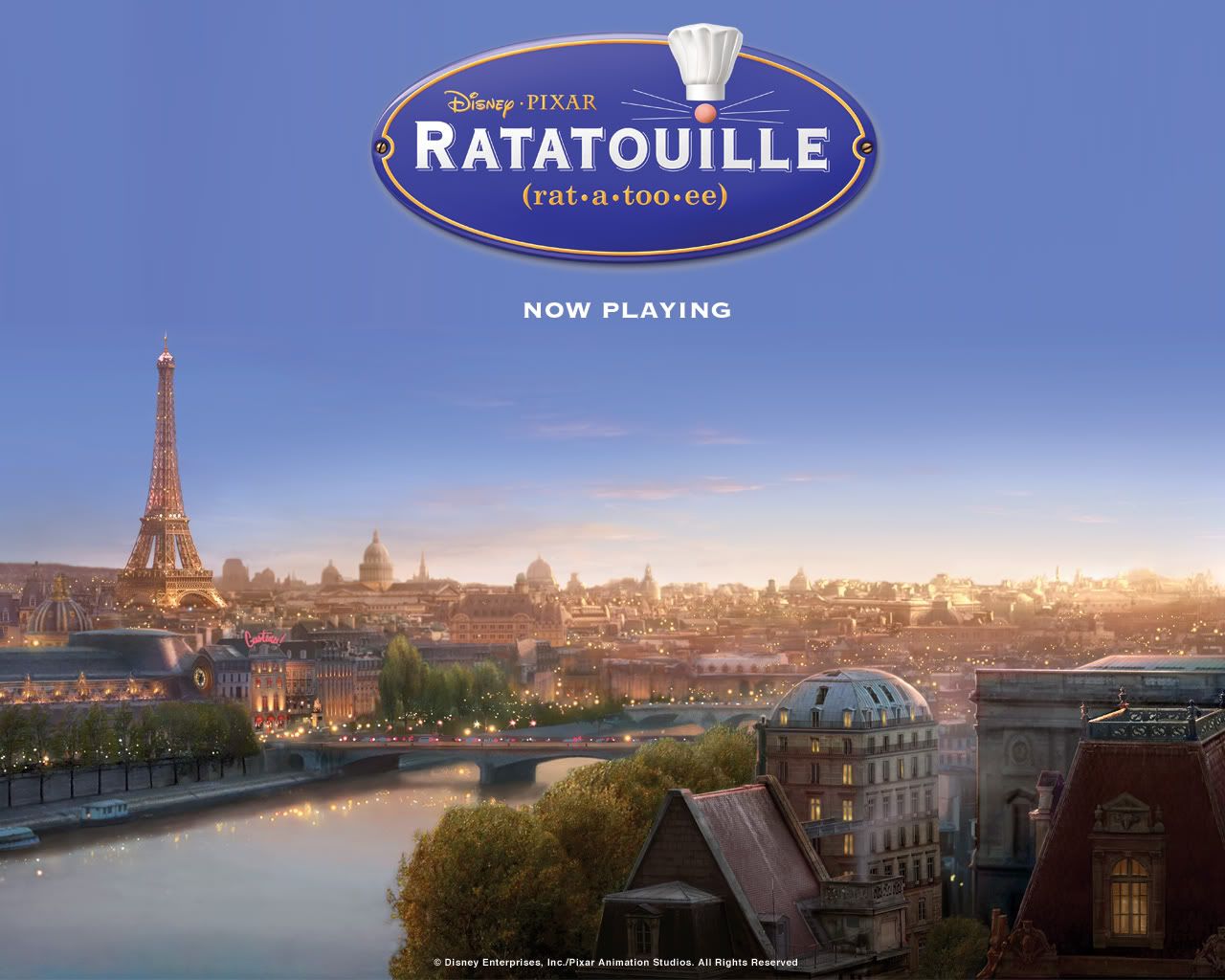 If you would like to get my Photoshopped version without the junk, you can get it
here
. It may take a while for the page to load, then "right click/save as".
Here is a smaller version, so you can see what it looks like w/o the lettering: