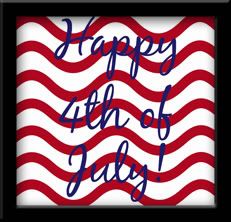 I hope all of you have a Happy Independence Day, and that you all appreciate the freedom that we have...
The freedom to
share your skills
, to
share your food and drink with the ones you love
, to
tell people exactly what is on your mind
, or to
share yourself without any restraint and show people what you are really made of
.
I hope your holiday is all of that and so much more... Have a good one!
ALSO...

Today is my 300th post! Thanks for hanging in there with me through good times and bad, dorky and sarcastic. Thanks for continuing to read The Circus That Is Me. ;)