Scroll down for more recent posts, please :D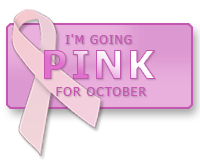 ***Sticky post/ Giveaway!***
I'm sure you are seeing lots of sites and blogs across the 'sphere going pink. What's all the fuss, you wonder? If you don't know already, October is Breast Cancer Awareness Month. It doesn't matter what part of the world you are in, breast awareness is so important.
There are many sites you can check out and support, I happened to sign up for
Blogger Talk
and they sent me an email about
Pink for October.
Friday I told you about
Feel Your Boobies
, another site that I had found last week promoting breast awareness and self exams, AND
National Feel Your Boobies Week is October 12-19
. Also as you guys know I started
Frisk the 15th
a few months ago.
There is the
Susan G. Komen Foundation
, which is one of the most informative sites out there- not to mention the fact that they are the leading foundation for research, survivors and activists.
To encourage participation across the net I have decided to hold a little giveaway. Please leave your link below if you are participating in Pink for October. My birthday was on the 4th and I decided that for my birthday I
would like to donate to The Komen foundation, so ... the first 5 bloggers that went Pink and left their link in the linky below, were:

Mama Lee
Shelley
Susie
Slackermommy
Comedy Plus

And they are getting a set of the
Susan G. Komen for the Cure Exclusive Promise Rings!
Thanks for participating everyone. :)
Even if you aren't one of the first 5, please leave a link. I'd still love to see your blogs. So get going, and go PINK! :D
ALSO, I just found out about another giveaway at
Slackermommy's
Pink for October post
.
To enter her giveaway all you have to do is to join in on the
Pink for October
project, then leave you your link in her Mr. Linky. The prize? A pink digital picture key chain. I want it!