It truly is a
Manic Monday
today. I don't know if you saw my last Thursday Thirteen, but it's a slide show of my family at the pumpkin patch. In this post i mentioned that Emma became enamored with a "Baby Pumpkwin", and she carried it around, hugging and kissing the baby like a good little mommy. Even though she didn't want to leave her baby outside, she relented rather easily when I explained that pumpkins grew outside and it would be just fine.
Wednesday night we left our gourd treasures on a bench in our small front doorstep area. We staggered the sizes and it looked simple but pretty. We had 2 large pumkins, 2 small ones- including Emma's Baby Pumpkwin, and 3 teeny ones. Now *sniff* in retrospect, I wish I had snapped a picture.
Saturday morning I grabbed my cuppa joe and walked over to my office armoire, while looking out of the window... and what should I see? A little squirrel looking at me, with a teeny tiny "pumpkwin" grasped in his teeth. I ran out side before he could manage to carry the pumpkin up the tree in my front yard and I must have startled the little bugger so much that he dropped it.
I picked the pumpkin up off my front walk and noticed that Little Bugger was watching me from the side of the tree. He wasn't very happy with me and looked as if he was contemplating jumping me for the goods, the little orb of golden orange deliciousness that he was planning to brunch (and munch) on. He looked at me with those cold beady eyes, his body tensed as if he were about to pounce.
I can only imagine how I looked to my neighbors, but I proceeded to tell the squirrel , "This is my pumpkin, not yours. Don't look at me like that. I'm not scared of
you
. My Pumpkin. MINE." I held the pumpkin out to emphasize that I meant what I said and said what I meant.
Yes... I taunted a squirrel. Get over it.
Anyway, about an hour and a half later I realized that I should probably see what the Little Bugger had been up to. I opened the front door to find that not just one baby pumpkin was missing but all 5 of the small ones were gone! Little bugger was now promoted to the rank of Little B@st@rd. Every single one of the little ones were gone without a trace. Oh, he's good- I thought.
But wait... what's that bit of orange I see peeking out from the grass? With all of the strength I could muster I walked over to the foot of the tree, and this is what I found. Warning: this picture is graphic in nature, it's not for little pumpkin loving eyes.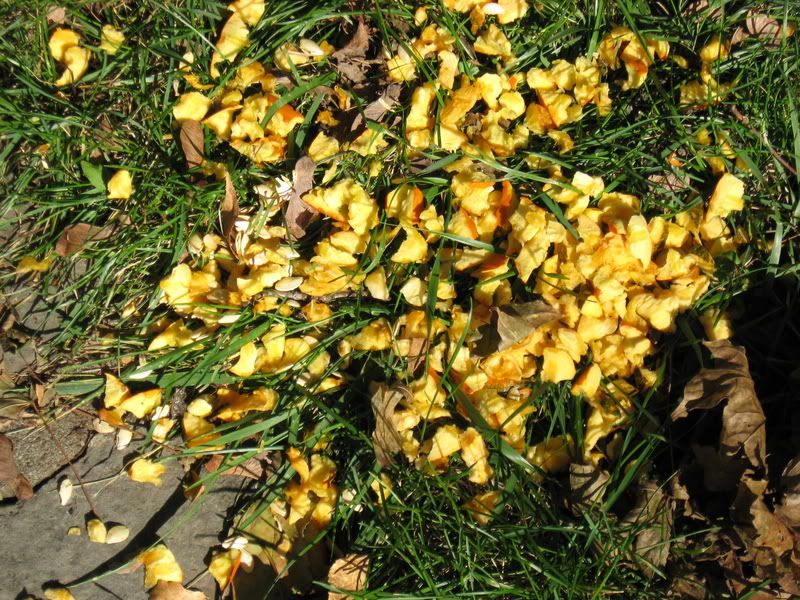 If you look closely you can see Baby Pumpkwin next to my front walk, and my little green pumpkin to the right of that in a smaller pile.
Not only had he torn apart my little green pumpkin, but there lie Baby Pumpkwin with his innards strewn, chunks of his flesh there for me find on my very own sidewalk. His stem was missing so I couldn't positively identify him, but I knew it was him. I could understand Little Bugger eating mine (the smaller pile), but to kill Baby Pumpkwin and to leave so much of him behind was just a flagrant display of cruelty.
"Bad squirrel, BAD SQUIRREL," I shouted up from underneath the tree.
Squirrels can be evil and vindictive. They are crafty little beasts. We have had several generations of gourd stealing critters living in the tree in our front yard, but none have ever dared to be so bold as to steal one BEFORE Halloween.
I think I may have been
TRICKED
by a squirrel, for stealing his
TREAT
. I guess the joke is on me, eh? Obviously Little Bugger comes from a long line of gourd eating deviants, but this one- this one is just dangerous.
We had to go out last night to pick up one more large pumpkin to make up for the carnage. One of the original guys was carved last night, but his expression says it all.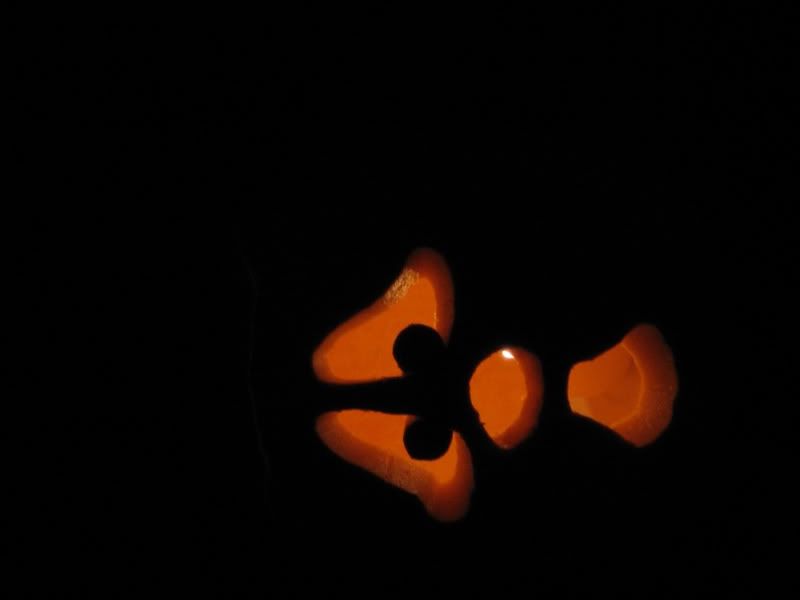 Let this be a lesson to all... Never taunt a squirrel.
RIP Baby Pumpkwin. *sniff*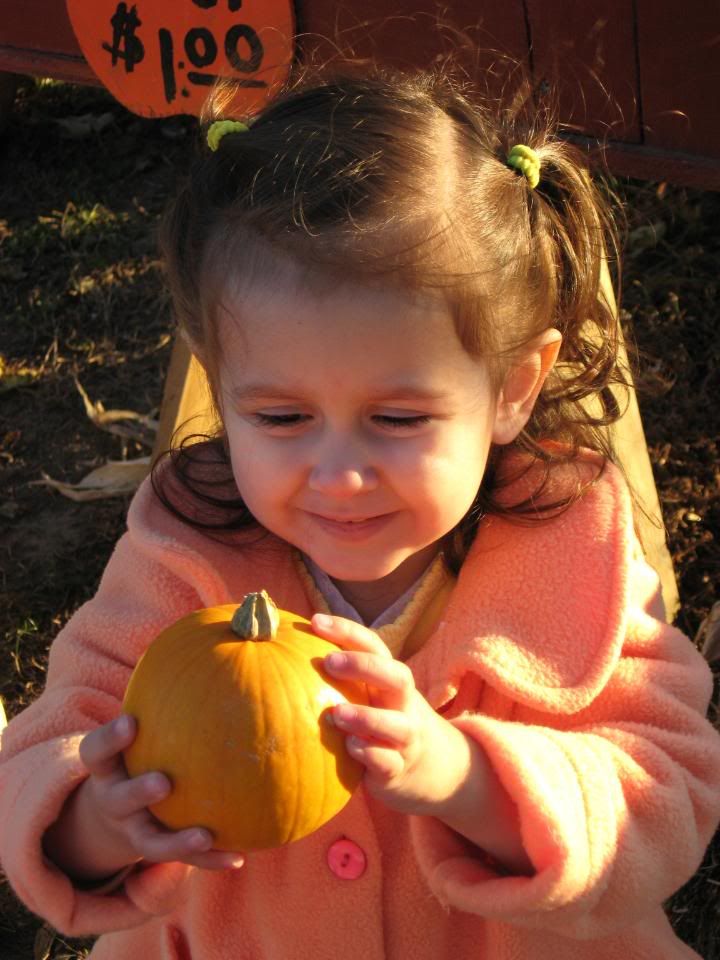 Little Bugger, you're lucky. You're very fortunate that I have a soft spot for squirrels... otherwise you'd be sleeping with the fishes.